Regular price

Sale price

£30.00 GBP

Unit price

per

Regular price

Sale price

£90.00 GBP

Unit price

per

Regular price

£130.00 GBP

Regular price

Sale price

£130.00 GBP

Unit price

per
Award-Winning

Big Mum's Samosas was crowned 2020 UK Food Lockdown Champion!

Sealed With Love

All of Big Mum's Samosas are handmade and delivered fresh straight to you.

Samosas You Can Trust

Big Mum has been making samosas for over 50 years!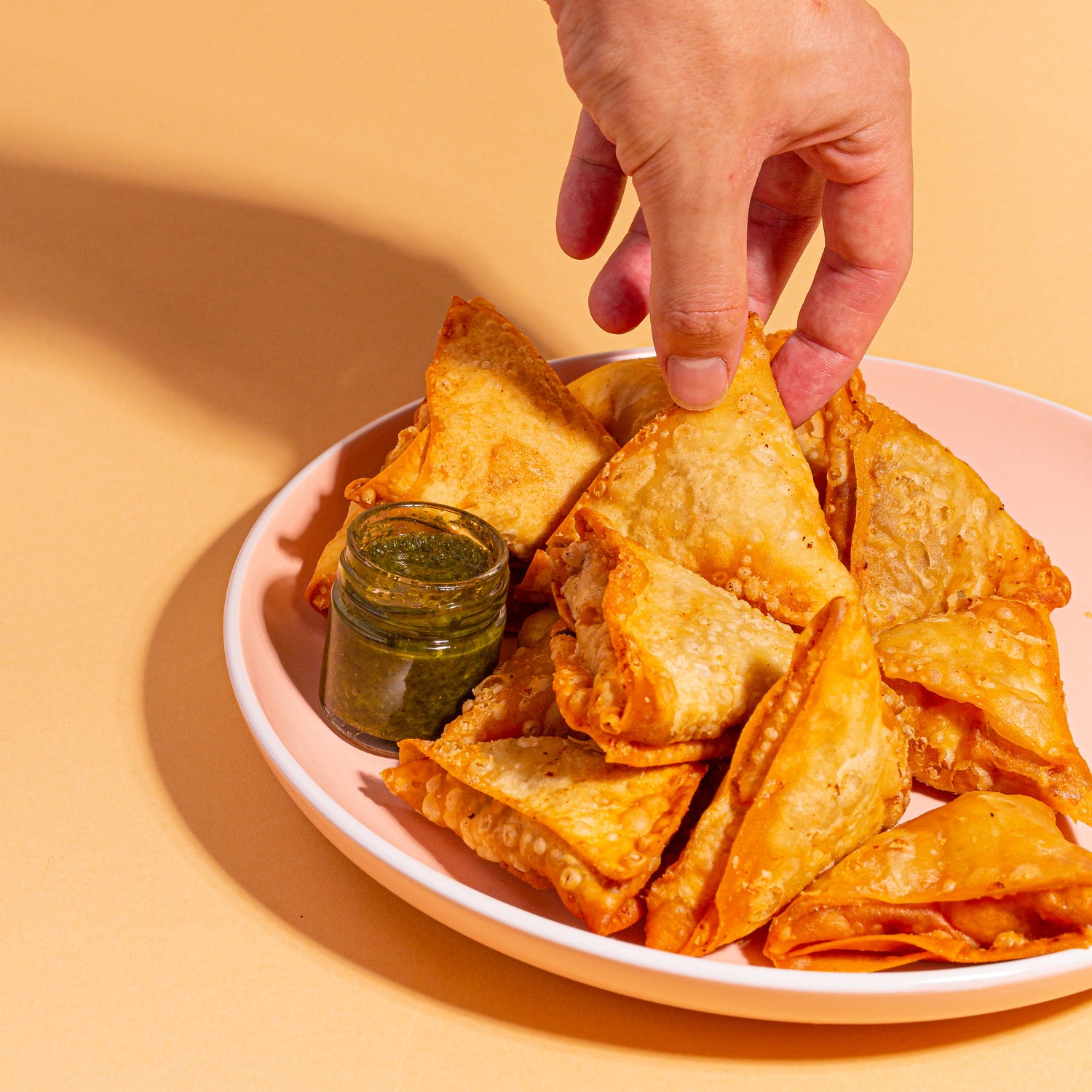 Find us stocked in
Ealing Grocer (W5)
Eat 17 (E17)
Eat 17 (E9)
Grocery Post (NW6)
Grocery Post (N6)
Panzers Delicatessen (NW8)
Pavilon Foods (RG9)
Wagmi, The Lightbox Workspace (W4)
Trudes (SW4)
IF YOU ARE INTERESTED IN STOCKING OUR SAMOSAS IN YOUR SHOP PLEASE CONTACT US.
CONTACT US
Discover all of our Samosas
FAQs
Can I change or cancel an order?

If you need to cancel or change an order, it is important to act quickly. Contact us as soon as possible to increase the chances of a successful cancellation or change.
My order has arrived damaged / I have got the wrong order.
I did not receive an email confirmation for my order.
Where can I find nutritional information and allergens of the samosas?
Do you offer bulk orders for events or parties?

Absolutely! We offer bulk order options for events, parties, and special occasions. Please contact us, so we can assist you further.
How do I reheat the samosas?

You can find the instructions here.
How long do the samosas last?

If kept refrigerated, you can consume your samosas up to 3 days after you have received them.
Can samosas be frozen?

Certainly! Our samosas are designed to maintain their freshness even when frozen. To ensure the best quality, follow these simple steps:

1. Place the samosas in an airtight container.

2. When you're ready to enjoy them, allow the samosas to defrost in the refrigerator.

3. Follow the reheating instructions provided with your order for the perfect taste and texture.

4. For optimal flavour, we recommend consuming the frozen samosas within 3 months.
Can I gift samosas to a friend / family member?

No problem! We are even able to write personalised messages to go with your order.
Is you packaging recyclable?

We strive to make our packaging as environmentally friendly as possible by using materials such as cardboard, paper, and plastic that can be recycled
How do the samosas arrive?

Your samosas arrive already cooked in temperature controlled packaging. Simply follow reheating instructions provided for the best tasting experience.
What areas do you deliver to?

We deliver nationwide to England, Scotland and Wales. We do not cover Northern Ireland, the Scottish Highlands & British Isles.
Which is the pick-up address?

You can pick up your Samosas at The Lightbox 111 Power Rd, Chiswick, London W4 5PY.

Opening from 9am to 4 pm, Monday-Friday.